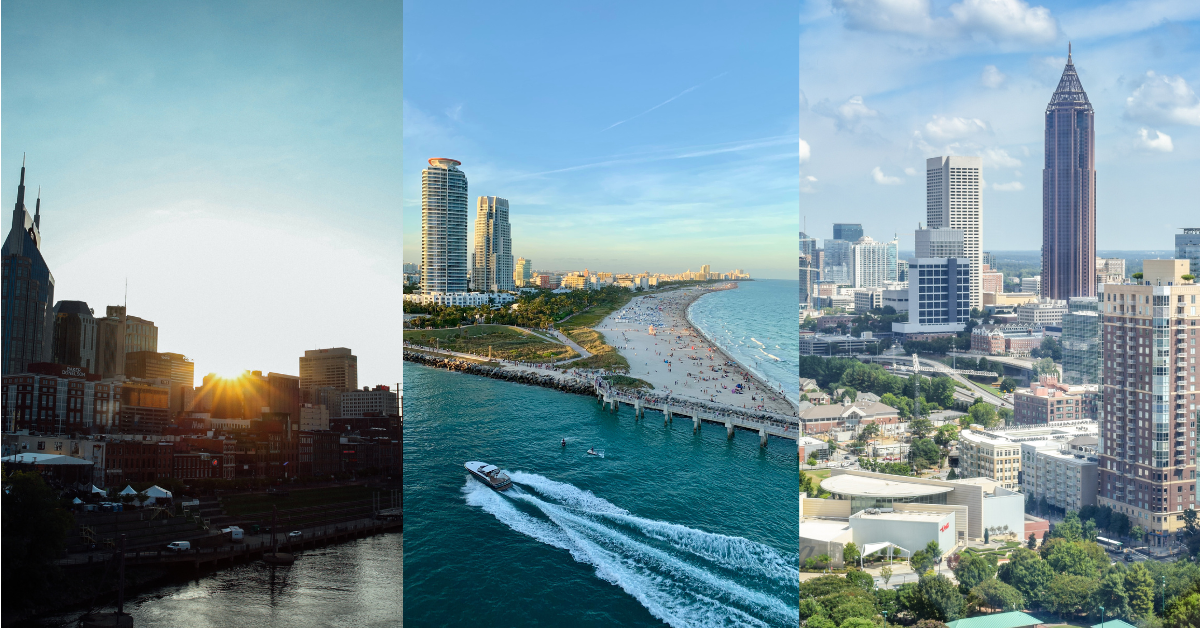 3-minute read - enough time to switch off from work and enjoy a small snack 🍎
There are multiple up-and-coming locations that are attracting migrating tech talent. As we are now in a "post-pandemic" world, the future of work has shifted not only from a remote working perspective but also candidates and clients are expanding to new geographies which will serve as new hubs for technology.
The Tech industry actually grew during COVID, making room for new tech hubs, according to Fortune. Tennessee reported the highest growth rate in tech industry jobs during the pandemic, and other major cities are on track to keep growing post-pandemic.
So, here are the three locations you should watch for migrating tech talent:
Nashville, TN
Nashville has been consistently voted one of the friendliest cities in America, as well as being the music capital of the United States (and arguably, the world!). It's thriving with diverse, technology-centric companies, and in 2020, Nashville had the lowest tech unemployment rate of any other market in the U.S. It's one of the fastest-growing tech locations and is seeing an influx of workers migrating to settle there.
People are pulled towards Nashville not just because of the lower cost of living in comparison to other locations (nearly 50% cheaper for housing in comparison to San Francisco), but also because the lifestyle is a lot more attainable and attractive. We are so excited to contribute to this growth and network with some of the most exceptional tech talent in the USA.
Did you know…
Nashville attracted the 2nd highest number of

tech workers

leaving California last year.
The

2021 Milken Institute Best-Performing Cities Index

ranked Nashville as the 8th best-performing city in the United States (up 6 spots from #14 in 2020).
Amazon has built its "Operations Center of Excellence" in downtown Nashville and claims its investment in the city will bring in $1B in tax revenue over the next decade.
Nashville is considered one of the Top 10 most affordable locations to start a technology business.
Tennessee is one of the few states with no income tax.
The city is home to country music history, including iconic venues like the Grand Ole Opry House and Ryman Auditorium.
Beyond music, which is the bulk of entertainment in Nashville, the city has 4 professional sports teams.
Miami, FL
With remote working becoming the norm for the majority of companies during the pandemic, many looked at their spending on office space and considered relocating to save costs.
This led to traditional offices in New York or California being migrated to places like Miami, FL. Not only is the office space cheaper, but it's also more enjoyable from an employee perspective. They can get outdoors, have scenic views while they work, as well as have great remote working spots.
Did you know…
Real estate is nearly 50% cheaper in Miami in comparison to New York.
Florida is another state with no income tax!
There was a huge influx of tech companies and workers to Miami in the fourth quarter of 2020.
Miami Mayor Francis Suarez has long been on board with making Miami the next tech hub.
Miami is a very culturally diverse city, with 40% of its population speaking Spanish as their first language and immigrants from a variety of countries.
Atlanta, GA
Atlanta is home to some of the biggest corporations in the world, such as Home Depot, Delta Air Lines, United Parcel Service, and Coca-Cola. It also has a significant presence of black talent within computer science and engineering, as well as multiple black colleges and universities (Spelman, Morehouse, Clark Atlanta University).
Atlanta was listed as one of the top 8 cities for sourcing tech talent by CBRE, and many companies are viewing this as an opportunity to work on their corporation's D&I. Tech companies are choosing to migrate to Atlanta in order to create additional opportunities for black talent, as it feeds into their larger D&I initiatives. This is incredibly positive from a recruitment perspective, as there is a lack of female, Black or Hispanic talent within engineering.
Did you know…
The cost of living in Atlanta is over 50% less than LA or San Francisco.
Atlanta is sometimes referred to as the "Silicon Valley of the South".
Apple, Google parent Alphabet, and Microsoft have all set up shop in Atlanta over the last few years.
Over the past 5 years, Atlanta has seen

15% growth

in tech jobs, comparable with San Francisco and Austin.
Over a dozen companies have reached "unicorn status" in Atlanta (startups that have grown to a valuation of more than $1B).
Nashville, Miami, and Atlanta are all quickly becoming tech hubs in the United States. Major companies are making new homes there, and workers are starting to migrate to them based on factors like cost of living and location. These cities are certainly ones to watch as the tech industry continues to grow and change.