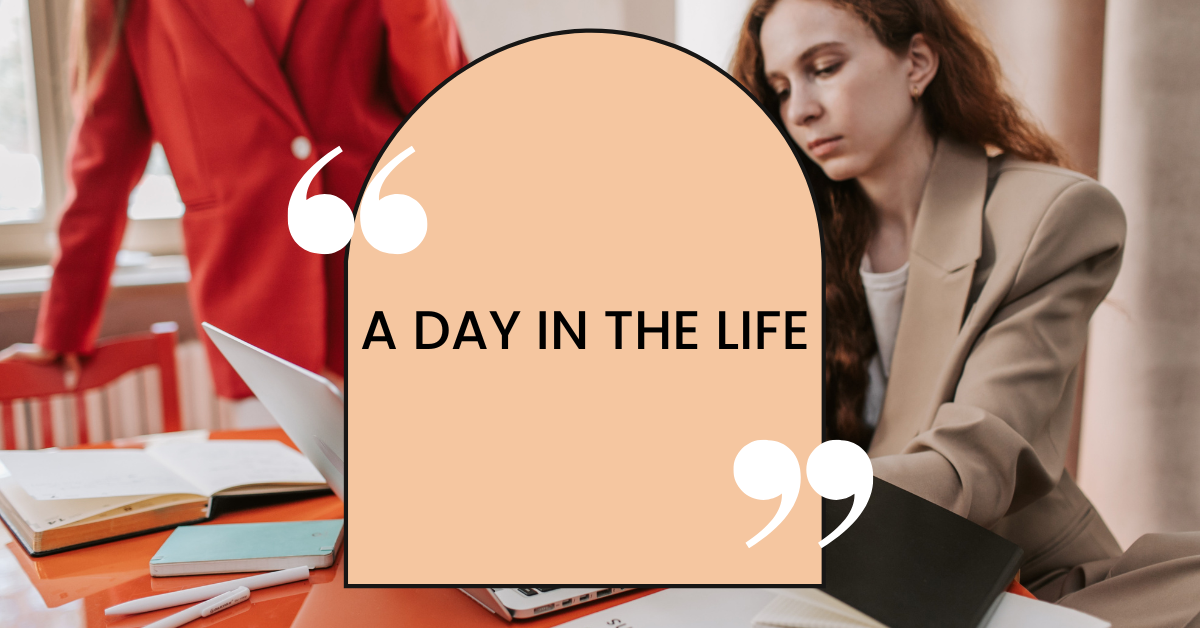 4-minute read- enough time to switch off from that work project and enjoy your coffee ☕️
Girls in Tech is an organization focused on the engagement, education, and empowerment of women in technology.
Today, we hear about a "Day in the Life" from Christina Aguila, Managing Director of the Nashville chapter of Girls in Tech. Christina co-founded the Nashville chapter with Jillian Vasquez, who we featured in our August 2022 HOST Magazine. Christina currently works as a consultant in the field of international development, where she has spent much of her career.
Let's hear from Christina…
It's hard to say that I have a "typical day" almost ever! With my role, I'm travelling internationally quite often, splitting time between Latin America, Africa, and North America–wherever my projects take me! I'll walk you through a typical day when I'm not out on the road or planning my next trip.
The Morning Routine
My ideal mornings start slowly. I don't like to rush into my day. Coffee is a must, and it's one of my favourite parts of the day. I usually grab a quick breakfast at home or on the go (I make sure to never skip it!) and listen to a podcast on a walk, while exercising, or getting ready. I'm working on finishing my breakfast before I start reading emails.
My workday begins with morning calls both internally and with clients, and sometimes presenting at a workshop. I'm usually juggling meetings across time zones - some client calls start very early or finish late in the day.
Mondays through Thursdays are usually packed with morning meetings. I try to get my meetings out of the way early in the day so that the teams I work with are aligned on goals for the week. I use time blocks on my calendar when I need to get some focus work done and during those times I do not respond to things that ping until I take a break.
I like mornings and the energy I feel at the start of the day! In general, I enjoy any part of the day that involves working with people who are passionate about making an impact with their work and who thrive by learning from others - fortunately, this is something I see both in my work as a consultant in international development and in my volunteer work with the wonderful community at Girls in Tech.
It's very rewarding to work with curious people who have a growth mindset and who also want to make a positive impact.
Post Lunch Break
I find I'm less productive in the afternoons, so this is the best time to get quick tasks done. Some of the countries I work with have different work weeks, so Fridays tend to be lighter on meetings. This is also a great time to get things on my longlist done and for more creative work.
When I'm not in meetings, I'm planning and designing projects, working on a pitch deck, or creating training materials. I enjoy catching up with colleagues face to face when I'm in the office (twice a week) and love to take walks to break up my day and get outside.
Towards the end of the workday, I check my to-do list to ensure I've met all my main priorities for the day before signing off. I always make sure to get this list ready for the next day as well so that I know where to work from in the morning. After doing this, I like to save some time to work on passion projects that will further my learning.
Unwinding From the Day
Unplugging from work happens in different ways. Some days I get outside and call up my family in California to catch up, maybe find an interesting podcast to listen to. Some days are not over until after I finish a big project deliverable. On other days I work on the Girls in Tech Chapter before closing out my day. I know my day is over when I am able to put the screen away.
No matter what, I look forward to cooking after work with my husband and enjoying a nice meal to unwind.
In Another Life…
I love working in my field of international development and working in a consulting role. If I were to do anything different–I always imagined I would be more fluent in foreign languages, so maybe taking the time to learn a foreign language and work on an international business or import/export idea.
Thanks so much to Christina for a peek inside of her life as a tech professional. We hope you've learned more about her process and how she structures her day and maybe gathered some useful tips for yourself. Be on the lookout for more "Day in the Life" posts from professionals across the globe.