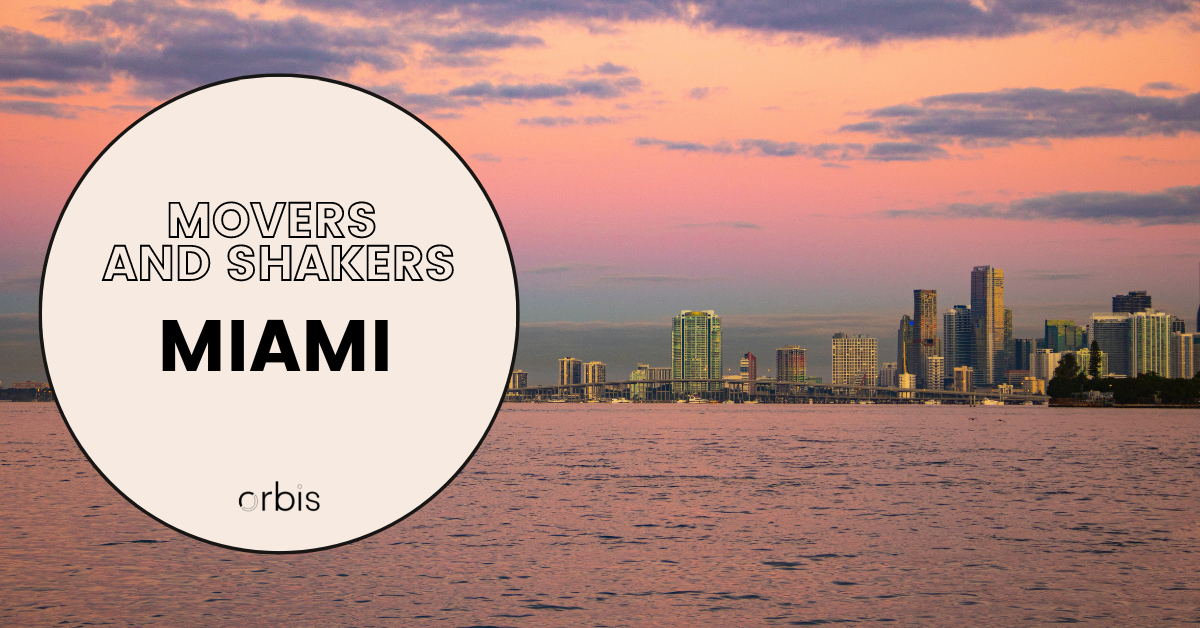 4-minute read - enough time to switch off from work and enjoy half your lunch 🥪
Luxury beach houses, turquoise waters and palm trees may be the first things you think of when we say 'Miami'. But there's more to this booming city than the picturesque backdrop.
It's filled with vibrant nightlife, Latin American influence and an endless variety of things to do.
Let's unpack what life is like in the Magic Sunshine City.
What's the city like?
Miami has the third-tallest skyline in the US after New York and Chicago, as stated by 33TravelTips. Stunning vistas of the Downtown skyscrapers are a must-see.
It's the largest city with a Cuban American plurality, sometimes known as 'the capital of Latin America'. Spanish is the predominant language here, spoken by 60% of residents, according to 33TravelTips.
Hubs of local activity include the famous Miami Beach boardwalk. Here, 'Miamians' can be found biking, strolling, skating and jogging (or even segwaying) between the crystal waters and a parade of sidewalk bars, concession stands and cafés.
Average rent price?
The average rent for an apartment in Miami is $2,132 for 887 sq. ft, according to RentCafe. There are more affordable options available, as well as higher-end properties that provide more generous square footage.
The overall cost of living is '15% higher than the state average and 16% higher than the national average.'
The most expensive neighbourhood is Brickell Key and at the other end of the scale are areas like Westwind Lake, Mays Gardens, and Palmer Lake. You can compare many more on the full list from RentCafe.
Weather (and the wardrobe)
Prepare for swimming, surfing, kayaking or scuba diving. Trunks and bikinis at the ready, everyone. Come without sunnies and suntan lotion at your own peril!
Expect hot, sunny days and tropical nights with a fresh breeze. This stretch of coastline also has the warmest ocean temperatures in the US Mainland, hence its popularity as a year-round beach vacation spot.
You're in for humidity in the summer. Winters are mild and can get a bit chilly. Overall, the temperature doesn't vary as much between seasons as it does in the rest of the US.
There is a wet season, from May through September, and it's best to be aware of hurricane season, which falls from June to September.
Culture and food
The city has a host of museums. We'd recommend the Vizcaya Museum and Gardens and the Miami Children's Museum (which is all about learning through play), to name a couple.
Miami even has its very own philharmonic, ballet and professional theatre company.
Nightlife centres around the famous South Beach area, with a host of popular clubs. Live music can also be found at the more relaxed North Beach Bandshell.
It's a sporty city! In fact, there's more sporting variety on offer here than in almost any other city in the world.
It hosted its first Formula1 weekend this year at the Hard Rock Stadium in Miami Gardens.
You can do just about anything involving a ball, court or field, but popular activities of the aquatic kind include:
Boating
Fishing
Free diving
Kayaking
Sailing regattas
Scuba diving
Snorkelling
Water skiing
Windsurfing
After all that, you'll need a good meal!
Traditional Miami cuisine includes Key Lime pie, Cuban Sandwiches, Stone Crabs, Arepas, and chicken 'n' watermelon 'n' waffles (trust us, it's a staple).
We'd be remiss not to mention the South Beach Wine & Food Festival. Held yearly in February, this feast for all the senses is a four-day destination event where you'll party the night away.
Here's a round-up of eateries to check out during the rest of the year, as recommended by locals:
In Brickell, closest to the city centre:
Versailles - 'The world's most famous Cuban restaurant', set in the heart of the Cuban community.
Moxies - This elevated sports bar attracts a social crowd and is a top choice for brunch and happy hour.
Crazy about you - An upscale destination with a unique lounge style, set on the waterfront.
Cantina La Viente - Mexican fusion with an elevated twist.
Hutong and Komodo - For the best Asian food, verified by locals.
Marion and El Tulcan - Go-to dinner party spots for great food and cocktails.
In foodie Wynwood:
Bakan - An artsy atmosphere with indoor and outdoor spaces, cacti, Mexican food and tequila.
Uchi - From the Japanese word for 'home', Uchi is all about great Sushi.
Astra - Greek and Mediterranean cuisine, live music and sweeping views make this rooftop restaurant a must-visit.
Mayami Mexicantina - THE place for dinner parties.
The Salty - The best doughnuts in town.
In Coconut Grove for a calmer scene:
Monty's - For beach vibes. An airy seafood bar overlooking the water.
Glass and Vine - Great dinners and lunches in the midst of a 'secret garden by the sea.'
Panther - Because you need to know where to find the best local coffee.
Overall, if you're craving a fun-loving, relaxed pace of life with plenty of ways to get active and a mix of cultures to enjoy, this rapidly growing city might be calling your name.