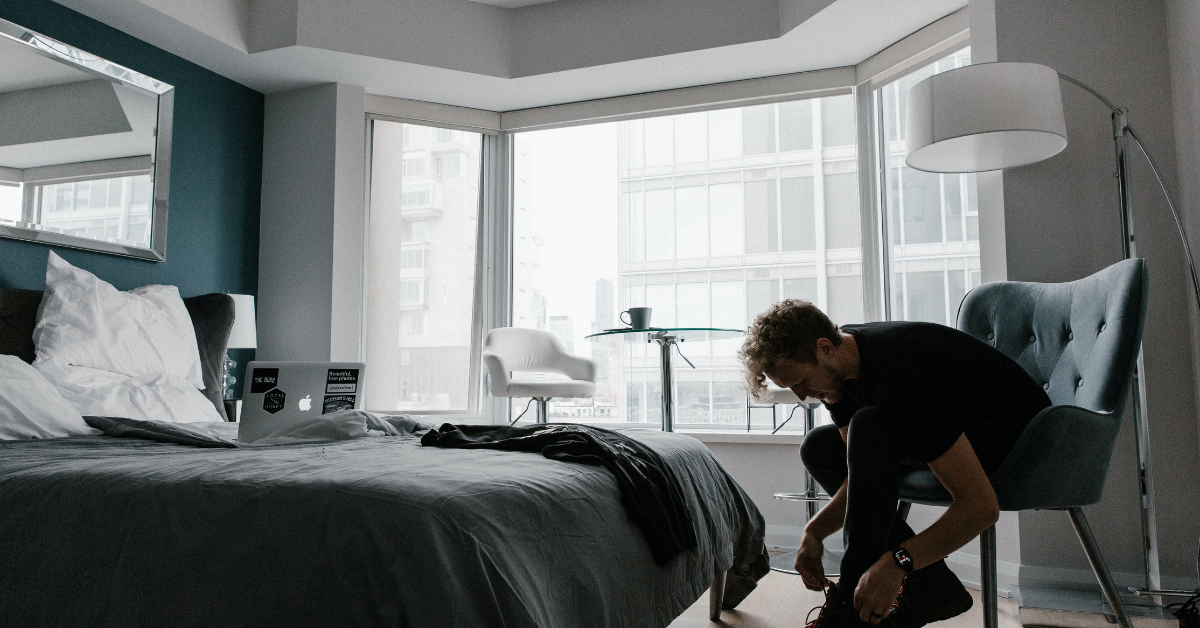 3-minute read- enough time to have that afternoon tea and snack you've been thinking about 🫖
Communication, collaboration, sales, teamwork, critical thinking, marketing, problem-solving… The role of a recruitment leader is multifaceted. Today we're taking a look at what that role looks like IRL, from morning routine to the end of the work day.
We sat down with AJ Parson, Associate Director and Miami team lead, to understand his personal passion for this action-packed job role, and learn how he structures his days as a recruitment professional.
The morning routine:
Every day is different once I get to work, but they all start pretty similarly.
We don't have kids yet, so I've converted the extra bedrooms into a home gym for now and use that space to work out in the morning. After I get that workout in, I shower and get ready for the workday.
Each day looks really different right now since I'm wearing so many hats. The first thing I'll do is check my task list to see if there are any urgent tasks on there that need my attention or any submittals from the night before that I need to attend to.
In the mornings I like to schedule one-on-ones with my team members on my team to make sure they're on track and know where they're going for the day, especially my new hires. I want to be sure new hires feel good about their plan for the day and know I'm there to answer any questions if needed.
After these one-on-ones, I'm typically attending some sort of leadership meeting or weekly standup. These meetings can take up a lot of my day. But afterwards, I check back on my task list and identify what I need to focus on–interviews I need to set up, submittals, jobs I can help support, etc.
Post-lunch break:
I'll hop on LinkedIn and do some searching and job postings. Towards the end of the day, I try to save some time to reach out to contacts and see how they're doing/explore any potential opportunities there. I'm very big on interpersonal connections and try to get as many referrals as I can.
Why I love my job:
I wanted to be somewhere where I felt valued, and Orbis went above and beyond in that department. They created a role for me when I joined, allowing me to continue working in an area of recruitment I enjoyed and help establish Orbis' new Miami office.
My job entails managing the Miami team, and in the future, I'll manage the East Coast contract market. I run meetings with the team to make sure they're up to speed and also conduct check-ins with the leadership team as well as weekly stand-ups.
I came from a contract recruitment background, so right now I'm learning more about business development and really getting involved with that for the first time.
Orbis hadn't worked with a lot of contractors in the past in the USA, so I've been enjoying working in that realm and expanding that part of our business as it's a speciality of mine. As I mentioned before, it's wonderful to feel seen and valued as a leader and a producer.
After work:
After work, it can be really hard to unplug sometimes because I want to keep doing more, but I like to come home, drink a glass of wine, cook some food, and binge-watch TV.
My favourite meal to cook is homemade sushi, and I have several different shows I'm watching at the moment, not just one specifically. I love watching tv–I even create a list of the shows I watch and rank them, so I always know how to provide recommendations. As a rule, though, I like anything that's visually suspenseful–my all-time favourite is Game of Thrones.
In another life:
I really enjoy what I do. I've always been a competitive person and love rising to meet challenges, so recruitment has been a rewarding career for me. Sometimes people throw the question at you: what would you do if you weren't in this line of work? It's a tricky question for me.
In my dream scenario, I'd be the general manager for the Miami Heat. Other than that, I've always been really interested in helping people, so I think I'd do well in psychology or psychiatry. I think I'd find helping people improve their happiness really rewarding.
Ultimately though, I really enjoy where I'm at. I get to help people every day and be a professional matchmaker of sorts. Everyone I've worked with has been so great–just caring, hard-working people. We push each other to get better every day, and I can't wait to see what's ahead for Orbis.
If you can relate to AJ and fancy getting in on the action, Orbis is hiring and we're looking for experienced recruiters or authentic personalities, who would like to dive into the exciting world of recruitment with us. You can check out more information about this here.