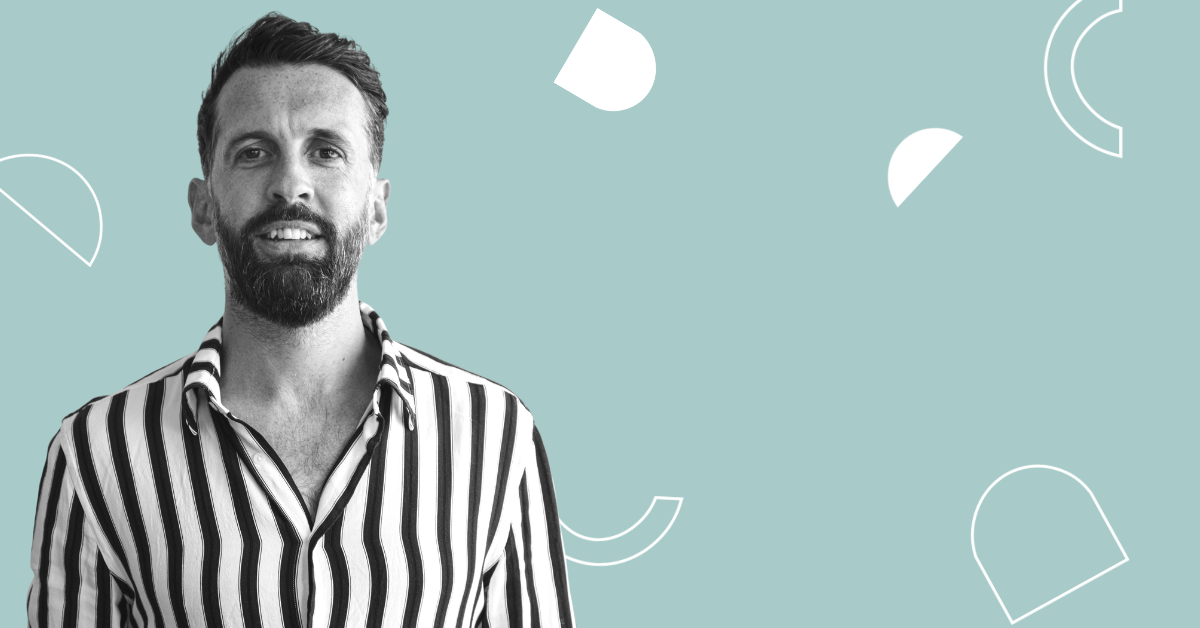 In today's edition of People Behind the Brand, the series where you get to know the humans of Orbis, we're catching up with Associate Director, Alex Sweetingham.
We chatted about Alex's top recruitment tips he's learnt over his many years in the industry, his management style, the dark side of recruitment and his wish to build a dog rescue centre in his back garden!
Read on for the full Q&A.
Tell us about your recruitment journey…
"Journey" is the right word! I went travelling straight after I left school. When I returned I started working in Financial Services, which was awesome. Then I began to learn who I was as a person and I gained an understanding that FS wasn't for me long term.
I learned a lot and met some cool people, but I wanted to do something that engaged me more. When I had previously engaged with the recruitment market to look for work, I was always a little under-impressed with the service provided as a candidate, so I started to think, maybe I can do their job… but better?
I could utilise all of my knowledge built-in FS but take this into a more engaging career. I cannot begin to tell how you much of an advantage having prior FS experience has provided me. And from there, I haven't looked back.
You refer to your recruitment journey as starting on 'the dark side of recruitment' and that an aim of yours is to change the industry stereotype; Tell us a bit more about that and your thoughts on recruitment stereotypes…
So I think it's danced around a lot but let's be honest, the overriding stereotype of recruiters, isn't necessarily a good one is it? At least historically anyway.
I have worked with many recruiters as a candidate and as a colleague, so I feel I know enough to understand what makes a good recruiter. I intend to deliver this in my direct capacity and to anyone that is a part of my time. The biggest gap in recruitment is acting with ethics and morality.
You are dealing with people's careers, people's livelihoods, and people's businesses. Make that your focus and not your commission cheque.
That's one of the many reasons I joined Orbis. Good people, with stand-up morals and they do things in the right way. It's not that hard, is it?
What's the best part of the job?
For me, it's the impact you have.
When you are part of a process that secures someone with a new role that affects them positively. For instance, you could help someone find their dream job that secures a pay rise, that then enables them to move house or provide their family with a better quality of life, or secure a hiring manager a top-tier candidate that alleviates pressure for that individual, meaning they have a better working life.
All of these things have a massive positive impact on people's lives and being a part of that is incredibly rewarding!
I also get a massive buzz out of seeing people do well. That could be a candidate I have placed, seeing people progress professionally or getting promoted. Alternatively, that could be a consultant I have worked with and developed, seeing their career development and being a part of that is awesome!
It might sound cheesy but when a junior consultant comes to you and says they have been able to put a deposit down on their first property, and you have been a part of that, that gives you a massive buzz!
What's the biggest challenge?
There are many challenges that recruitment can throw up - much more than people probably realise, but that's what makes it interesting! I think the biggest challenge when you are starting out, is fear. Fear of making a mistake, fear of asking a silly question, fear of making a bad call, fear of not succeeding.
Once you get past the fear, you are away!
Who has had the most impact on you (personally or professionally)?
My current boss - he is amazing.
In all seriousness, and a little obscurely, I have probably learned the most from the negative people I have been around because I know that's not what I want to be like.
Recruitment is quite bespoke in terms of your style and how you approach things - you work this out for yourself and with the guidance of the people around you, but you can quickly learn a lot from the negative people you come across too.
What's something you wish you'd known at the start of your career?
A very simple question… 'what is the worst that can happen?' When you ask yourself this question, more often than not, the thing you are worried about is not that bad.
What is the worst thing that could happen on this call? You mess up the call and the candidate doesn't want to deal with you. Not really that bad is it?
What is the worst thing that could happen if you DON'T make this call? You don't get to help someone in their career search and make them happy, make you happy, your boss happy, or your client happy. Pick up the phone!
What have you learnt over your many years in recruitment, that has made you a better leader?
I have learned so much! This section could go on forever but in summary…
You have to adjust. Different colleagues need different management styles. Be empathetic to people's needs in the sense that you will need to tailor your management approach, which will enable to you get the best out of each individual. Everyone is different.
And always look to learn. Growth mindset! You are never the finished article. How can you expect your team to be open to learning if you aren't?
What would you say is the most essential skill for someone wanting to get into Recruitment?
Resilience. It's overlooked and underestimated. It's easy to be happy when things are going well but it's difficult to bounce back when things aren't going well; however, it is essential! It's such a great quality to have in recruitment and life in general.
Also, listen. Listen to your colleagues and mentors. What can you learn from them? Listen to your candidates and clients. What are they asking you for and what do they need?
People think talking and expressing their opinions are the most significant skills you need to kick off your recruitment career or do well in sales. Listen first. Then talk. Keep an eye on that person who isn't the loudest voice in the room.
In another life... If you weren't a recruiter, what would you be doing?
A football agent! The perfect blend of business and sport. Then with the millions that I would earn, I'd build a dog rescue centre in my back garden!
Thanks for a great chat Alex, it's been a pleasure.
If you'd like to work with Alex and join Orbis' journey to make Recruitment good again, reach out to our Talent team for details about our open opportunities here