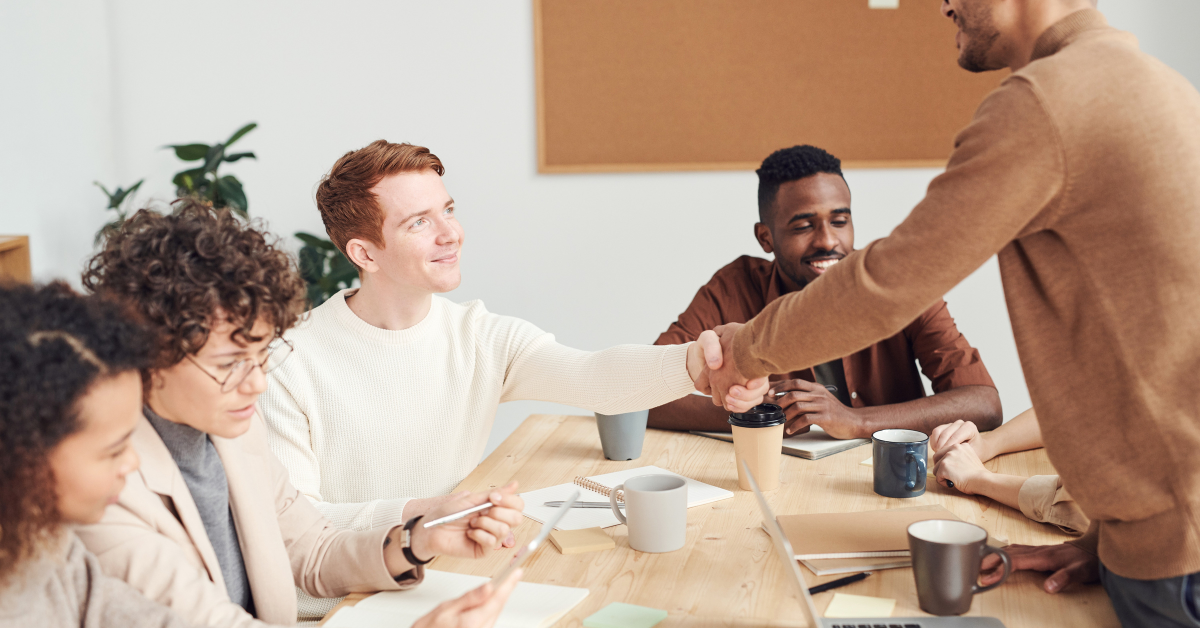 So, you've just accepted a new role and you're about to start - this may be your first job out of school or university, or it may be the third or fourth role in your career. Each career journey is different, and each start is different, too.
You're probably excited about the endless possibilities and also feeling some butterflies in your stomach about this new chapter. We've put together a quick guide specifically for those in the earlier stages of their careers - with some of our best pieces of advice for making an excellent impact when starting a new role.
First impressions count:
Be on time (or 5 minutes early)
Timekeeping should be a given - but if you know that you're someone who isn't great at "watching the clock" - then focus on being at least 5 minutes early before you're contracted to start the day.
Not only does it give you some time to suss out your commute and familiarise yourself with how the tea and coffee machine works (or if you're virtual, logging on to Zoom or Teams), but it's good manners and shows that you care about your employment and that it's a priority. You don't need to be excessively early, but punctuality is key.
Interact and socialise
Whether you're in-office, completely remote, or hybrid, taking the time to get to know your colleagues and the wider team is important to embed yourself into the culture and also start forming those crucial internal relationships that will enable you to enjoy your day-to-day work. For some, socialising may not come naturally - especially if you're naturally more introverted, and that's OK!
Socialising doesn't have to always come in the form of drinks and work events, it can be something as simple as a coffee catch-up, scheduling intro meetings for a quick 15 minutes or even jumping on a phone call to say "hello".
Presence is more important than being the life and soul of the work party. So, if that isn't how you like to operate - know that there isn't a one-size-fits-all approach to this and you can make socialising a priority whilst also respecting your social boundaries.
Some things you can do are as follows:
Take it upon yourself to schedule 10-15 minute intro calls or coffee meetings in your first three months with colleagues, your manager(s) as well as key stakeholders in the business

Try and go for lunch with someone different once a week

Look at what social events/virtual events your employer has scheduled and attend the ones that you think would be most beneficial to you

Get involved with initiatives that are important to you
Seek out senior people
Developing relationships with senior people within an organisation is your "kryptonite" to integrating yourself and making a great first impression. Regardless of your seniority, having the confidence to network and want to learn from those who are more experienced than you will equip you with the best tools you need to thrive within the organisation.
This is completely dependent on organisation size, and may not be possible all of the time - particularly in larger corporates where there are multiple layers of management - but ensuring you have visibility with senior people from day #1 should be your priority.
It could be in the form of approaching them directly, or even finding out from your manager who you should be networking with. They'll be able to give you invaluable information on how the company works, what to look out for, and become a trusted peer you can rely on.
Keep it focussed
As much as it's important to network and socialise at work, remember that you also have a job to do! Stay focused, keep your head down, and put your all into tasks. If you don't understand something - ask. If you need training, approach your manager and be proactive.
Even the most robust onboarding strategies in the world from an employer can't cater to every single individual's needs - so take control of your onboarding too, and don't just go with the flow.
A few weeks in…
Become more involved in the culture
Now that you've done surface-level relationship building, what are the things that you like about the company culture? You will have some idea of this already from interviewing and also spending the last few weeks in the business, but pick out two or three things that you love and use that to your advantage.
Is it the team meetings? Is it fundraising? Is it specific initiatives? Find what resonates with you most - and then you'll start to build deeper relationships with those who also enjoy those elements of the company culture.
Start to understand the inner workings of the business
You will not be expected to master how every team operates - but spend time observing and really understanding how the business runs, not just your specific team.
If you work in sales - how does your team impact other areas? How can you work together? If you work in data analytics, what areas of the business need your support the most? It's all about being proactive and getting "under the hood" of the organisation you've just joined.
Where do you think you can make the most impact?
You've been hired for a reason: technical skill, culture fit, and how you present yourself - all played a part in getting you the job. Now it's time to shine and show how to make an impact.
This might not be clear to you in the first few weeks, and if that's the case - that's also OK! Ask your manager about the pain points and figure out how you can help. Provide solutions, and be proactive.
A few months in…
Ask for feedback
Feedback is your silver bullet for success. Knowing what is and isn't working for you (and the team) is invaluable for your growth and knowing how much of an impact you've made. Asking for feedback without waiting for it also breeds an incredibly healthy environment and relationship with your colleagues and peers - it shows you aren't ego-driven and that you truly care about making a difference.
Listen
This goes without saying, but you should always actively listen - even when you're 10 years into a job. Just because you feel comfortable doesn't mean that you know it all. Businesses are constantly changing, and it's important that you don't abandon the key listening skills that you would have relied on so heavily at the beginning of your career!
Audit your working relationships
We spoke about this in a previous blog, but make sure that you audit your relationships for a happy, healthy relationship with your job.
See the piece here.