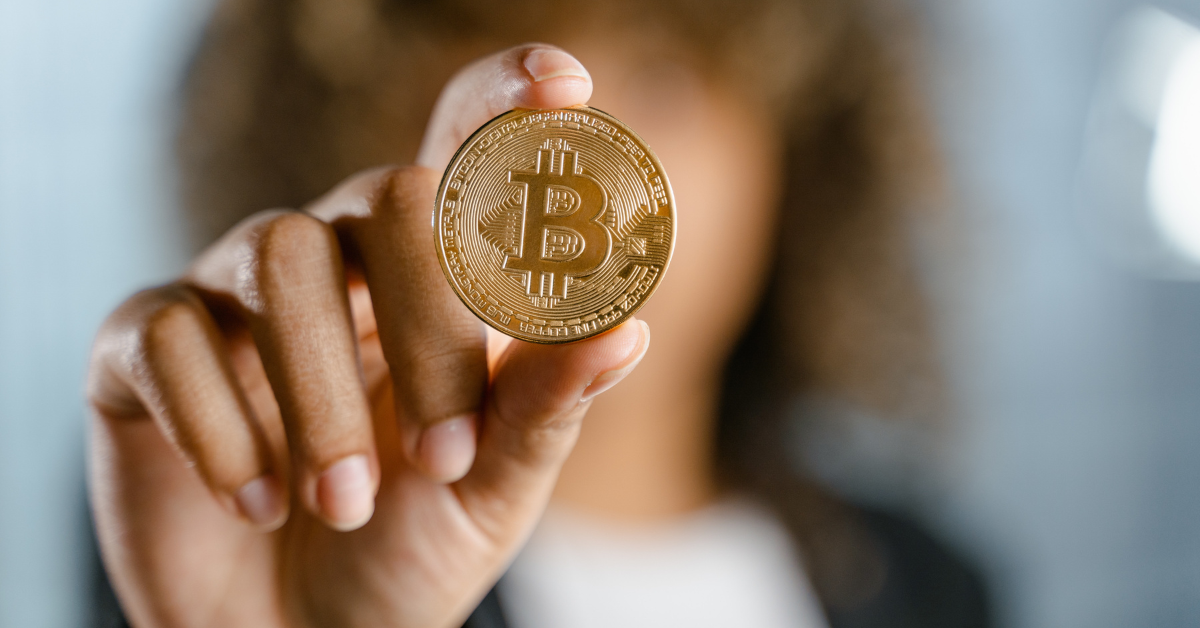 The gender gap in tech and finance has possibly become more obvious than ever, in the world of crypto.
Historically, both sectors have suffered from gender inequity. This innovation at the intersection of the two has only magnified the problem.
According to CNBC, 'The crypto gender gap exceeds the existing gap within traditional investments including stocks, ETFs, mutual funds and real estate.'
There are a host of reasons for this. For one, crypto investing often starts as a hobby or side hustle, and the disproportionate demands of childcare and other domestic duties placed on women put their free time in too-short supply.
Investing in crypto is also high-risk, and high-tech, two things that many women are conditioned to see as red flags.
As women are paid less, and more financially vulnerable than men, they are less likely to put all their eggs in a volatile basket.
Moreover, the bias against women in computer sciences and finance means that fewer women have the existing knowledge and skills that would equip them for crypto success. A Blockfi survey showed that only 9% of women feel they know enough to get involved in crypto.
That's not to mention the notorious crypto 'bro culture.' This was exemplified by the North American Bitcoin Conference of 2018, where 'only 3 of the 88 speakers were women and the conference after-party was held at a strip club,' according to Cointelegraph.
The result? Alarming numbers in gender diversity.
Hubspot stated that only 21% of crypto owners in the world are women, with the stats for Bitcoin and Ethereum coming in especially low at 20% and 15% respectively.
In crypto leadership, the picture is even bleaker: 'Of the 121 top crypto companies around the world, only 5 are led by women.'
However, a growing number of bold women in the industry are innovating to change the game from within. Many of their initiatives have an educational aspect which could open the doors for many more to follow.
In today's blog, we'll introduce four women taking up space in the crypto world, reaping the rewards, and empowering others.
Yeonmi Park.
Yeonmi Park is a North Korean defector and Human Rights activist, fighting against human trafficking, and striving to get information back to the people of North Korea.
You can see her TED Talk on Freedom here, and buy her book, In Order to Live, here. She discussed her experiences on the Bitcoin Fixes This podcast, and also spoke at the Bitcoin 2022 conference.
Yeonmi advocates Bitcoin as a unique way for the oppressed to build and control their wealth, providing a route to freedom.
As Bitcoin is decentralised, it cannot be controlled by countries or governments, nor can it be forcibly taken away.
According to Bitcoin Magazine, Yeonmi said that in countries like North Korea, "There's no way you can hide anything in your body, but with bitcoin, you can hide it in your mind."
Ultimately, one of crypto's biggest merits is its potential to empower the powerless. This goes for the unbanked, the politically subjugated, and too often, for women across the world. Advocates like Yeonmi are making it clear that digital currencies present an opportunity to give back financial agency.
Professor Christine Bamford.
Christine Bamford is a Visiting Professor in Fintech and Leadership at Edinburgh Napier University Business School. She's also the Founder and CEO of Women's Coin.
Their website states, 'Women's Coin is all about technology innovation as a means of giving back to improve the lives of women, families and communities,' with a vision to 'redefine charitable giving through tokens, blockchain, smart contracts and virtual reality' and to deliver 'undiluted financial support to those in need to live a better life.'
Traditional charitable channels can suffer from dilution because a proportion of donations is absorbed by organisation overheads, and while support addresses a specific problem, it doesn't provide the recipient with a direct financial boost. These obstacles can be circumvented by digitisation.
The Women's Coin Foundation also works to educate underprivileged people, through initiatives like Stepping Up, a leadership programme for Black and minority ethnic professionals in Bristol.
Through this combination of charity and education, Women's Coin can empower women both within the industry and beyond.
Jaime Schmidt and Brit Morin.
This duo are the co-founders of an open-source crypto community called BFF.
It was created in 2021 as a forum for the 'crypto curious,' helping women to learn about Cryptocurrencies, Web3 and NFTs, in an inclusive, friendly and 'bro-culture' free space, designed for women and non-binary people.
It's a place to connect, learn and engage. The community kicked off with the live event 'BFF Minted' in January 2022 and their plans for the future include chat groups, official events and NFT collections.
Through celebrity partnerships with female role models, a fun environment and a sense of sisterhood, Jaime and Brit are solving crypto's culture problem to make it welcoming for women at last.
Through this inclusive setting, women can learn about and get involved in crypto in a way that's accessible for their knowledge level, without having to jump through any hoops or dodge any toxicity.
Mila Kunis.
We like to end on a wild card, and here it is.
Actress Mila Kunis stars as a voice actor in the adult cartoon 'Stoner Cats.'
According to Next Advisor, the show is not available to watch on any streaming platform or cable network; 'to watch it, you have to buy one of the show's NFTs, or non-fungible tokens, using a cryptocurrency called Ethereum.'
An NFT art series based on the show has already sold out 'at .35 ETH apiece, or just over $1,000 (depending on the price of Ethereum).'
The show is at the forefront of an emerging trend within media and entertainment of adopting crypto as a new pricing option. It may seem radical now, but how different is it really to the transition from paying a cable bill or TV licence to signing up for a streaming subscription?
If nothing else, the link between crypto and entertainment certainly creates another motive to get crypto-literate and start engaging with the industry. This could spark a new entry point that doesn't stem from the male-dominated spaces of tech or finance.
Kunis herself has spoken out about empowering women to move into the crypto space. "We are so conditioned as women to be risk-averse, I want to take risks and I want to see what happens," she said, according to the Washington Post.
Visibility and representation are key. Female faces in the public eye associated with developments in crypto may be the catalyst we need for more women to overcome their uncertainty and sense of alienation.
Other celebrity names getting on the Web3 bandwagon include Gwyneth Paltrow, Reese Witherspoon, and Eva Longoria.
So, whatever you make of the latest ideas in crypto, it seems clear that women have arrived, and they want a piece of the action.