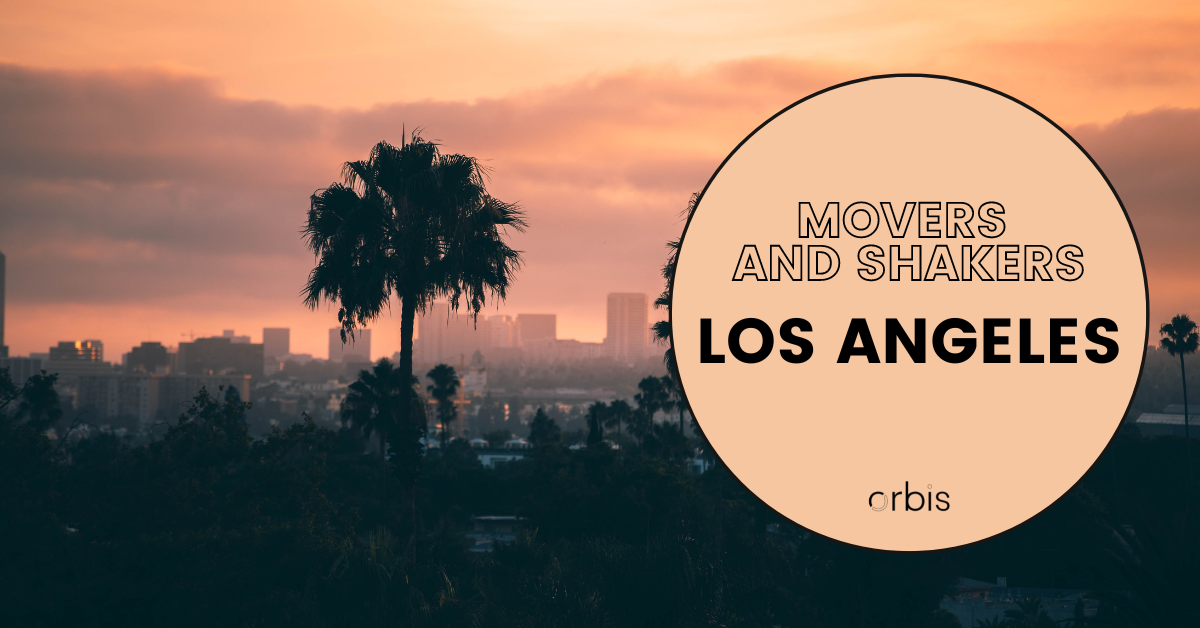 4 minutes - enough time to enjoy a cup of tea 🍵
In this instalment of Movers and Shakers, a series where we explore the cities we call home, we look at the newest location for our Orbis offices: Los Angeles, California!
Once named "El Pueblo de Nuestra Señora Reina de Los Ángeles Sobre el Río Porciúncula" (but understandably shortened, to make all of our lives easier), LA is one of America's most famous cities. Read on to learn more about the City of Angels!
What's the city like?
Los Angeles is sometimes called the "Creative Capitol of the World'' for all that's happening there–it's home to Hollywood, Universal Studios, Disneyland, and much more. It's the only North American city to have hosted the Olympics twice, and its population is the second largest of any city in the United States (behind New York).
The city is ethnically diverse; 40% of its residents were born outside of the US. People are drawn to LA for its high quality of life, mild weather, educational opportunities, entertainment, and diverse population. It has its cons too of course, with its many traffic jams and high living costs, but all in all, LA is a remarkable city to call home.
Average Rent Price
Los Angeles is among the most expensive cities to live in in the United States. Estimates vary, but this report from rent.com lists an average studio apartment at $2300 a month. The rent.com report compares the cost of living in different neighbourhoods in Los Angeles, which is helpful if you're looking to #makethemove there. According to that report, the most popular neighbourhood is Koreatown, where the average rent for a one-bedroom apartment is $2600.
Weather (and the wardrobe)
LA is known for its great weather. Much of America goes through all 4 seasons, but in LA It's rarely ever too hot or too cold, staying at a breezy 70 degrees most of the time. The sun is shining almost every day, so there's no long bleak winter.
The weather stays temperate most of the year, and the city doesn't experience harsh humidity like some of the southern United States. If you're someone who's heavily affected by the weather, LA would be a great move for you!
Culture & Food
Los Angeles is a diverse city with amazing food from many cultures. Being so close to Mexico, it's considered one of the best cities in the US to have authentic Mexican food. LA is also very well known for its sushi. Top sushi restaurants include The Brothers Sushi and Sushi Kaneyoshi.
LA is nationally known as a very health-conscious city, so you have plenty of options if you're looking for something green, like Olivia or Simply Salad. It's also a city very friendly to vegans and vegetarians. For our vegan friends, check out Little Pine or Au Lac!
Religion & Faith
Like its culture, LA's religious scope is diverse as well. A majority of its residents who are religious are Christian (specifically Catholic), but there is a wide range of other religions present in LA as well.
According to bestplaces.net, 53% of LA's residents are religious, with 37% of those residents identifying as Catholic. Many other religions are present as well, including Judaism, Islam, and other Christian religions like the Pentecostal and Episcopalian churches.
Getting Outdoors
There's no shortage of amazing sights to see in LA. The city has the advantage of being near the ocean and the mountains, and beautiful weather all year round, so you have your pick of incredible outdoor activities.
Since the climate is so temperate, swimmers and surfers can enjoy the beach year-round. Runners, bikers, and walkers will also enjoy getting their exercise in along the water
The San Gabriel Mountains border the city to the East, and the Santa Monica Mountains lie on LA's northern border, providing ample opportunity to hike, bike, or camp along these ranges' beautiful trails.
All in all, Los Angeles is one of the most exciting cities to move to in the US. From its diverse culture to the beautiful year-round weather, it's no wonder that it's such a popular destination for people of all ages. Ready to #makethemove? You won't regret the sunny city of Los Angeles!